Placing a Color Correction Order:
*Photos courtesy of Benjamin Clifford.
In this section, we review the ordering process for basic members! Specifically the process of Color Correction only, walking though: order setup, applying your Editing Style, selecting services, adding additional details, and uploading images.
If you have any questions about Retouching Orders, scroll down to the bottom of this page, or please click here.
UPLOADING IMAGES
After placing an order, you'll be presented with one of these three options for submitting images:
Send a Link (containing Lightroom Classic catalog, Smart Previews, and .lrcat-data [if sending LR 11 or LR 12 files]) - If you use Dropbox, WeTranfser, or Google Drive you can copy and paste a link to the files so that we can download them from your storage account.
Upload a zip file (containing Lightroom Classic catalog, Smart Previews, and .lrcat-data [if sending LR 11 or LR 12 files]) - Upload your zipped file directly to our server from your web browser.
Web Uploader (for RAW and JPG files) - Select files and upload them directly from your web browser.
*We do not accept hard drives for order delivery.
If you need to upload images for an existing order, access them from Orders in your Account Dashboard.
SENDING A LINK USING DROPBOX
1. Move the folder you plan to send into Dropbox. Zip/compress the folder.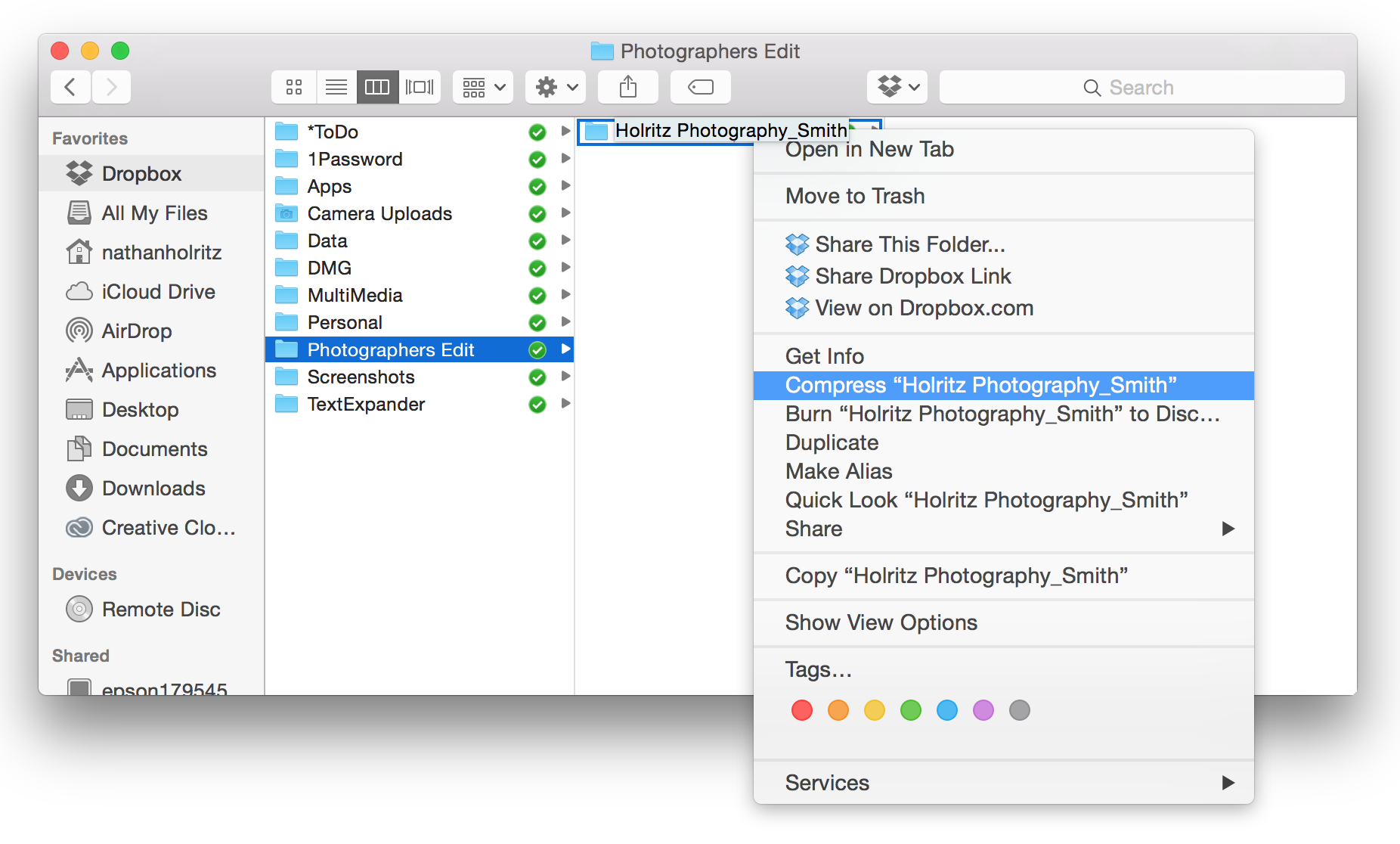 2. Right-click the zip file. Choose "Share Dropbox Link".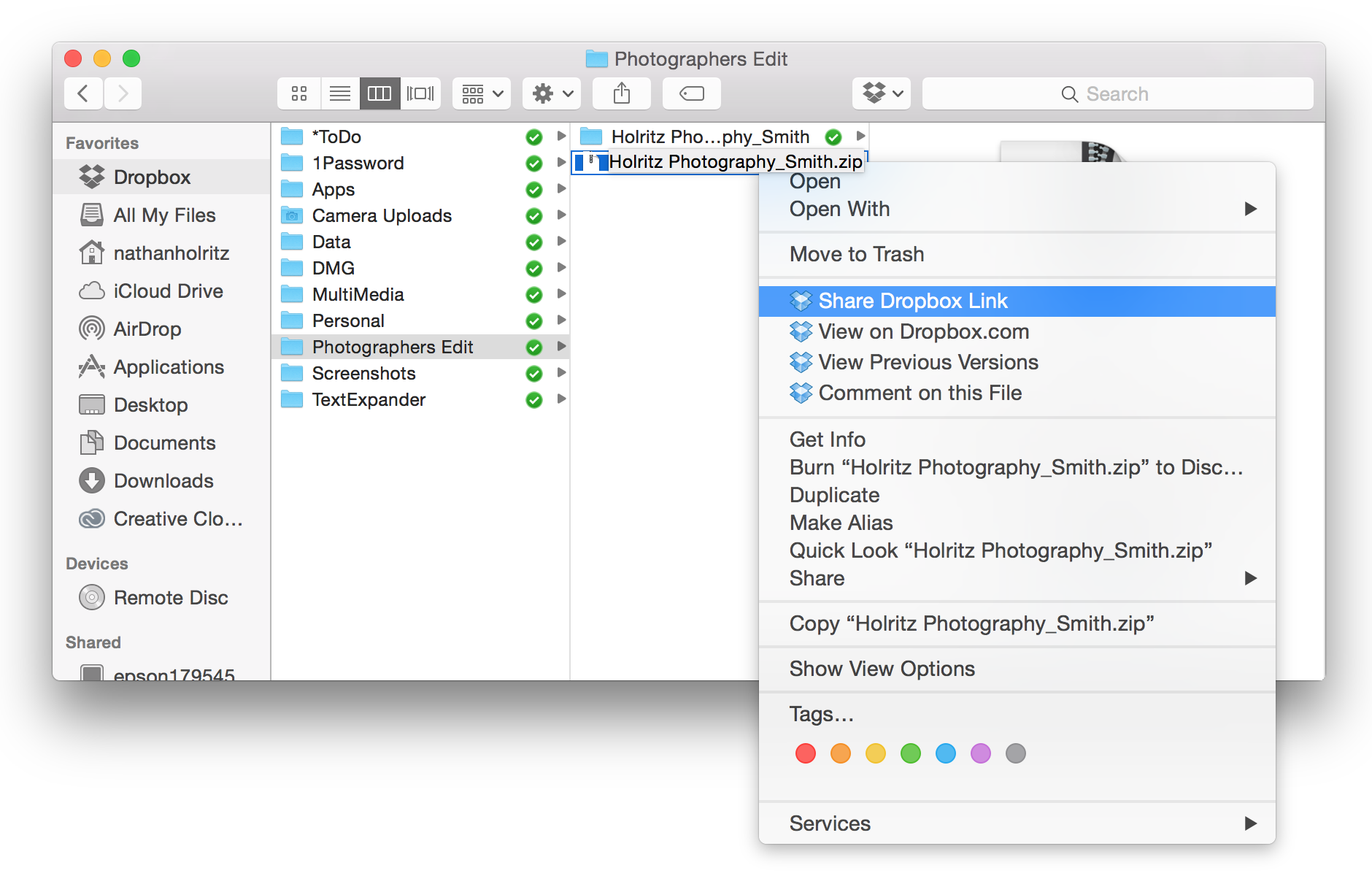 You now have the link copied to the clipboard and ready to paste.
3. Log into Photographer's Edit, and click on Account. In the list of orders, click "Upload Images" link next to the appropriate order.
4. Paste the link and click 'Submit'.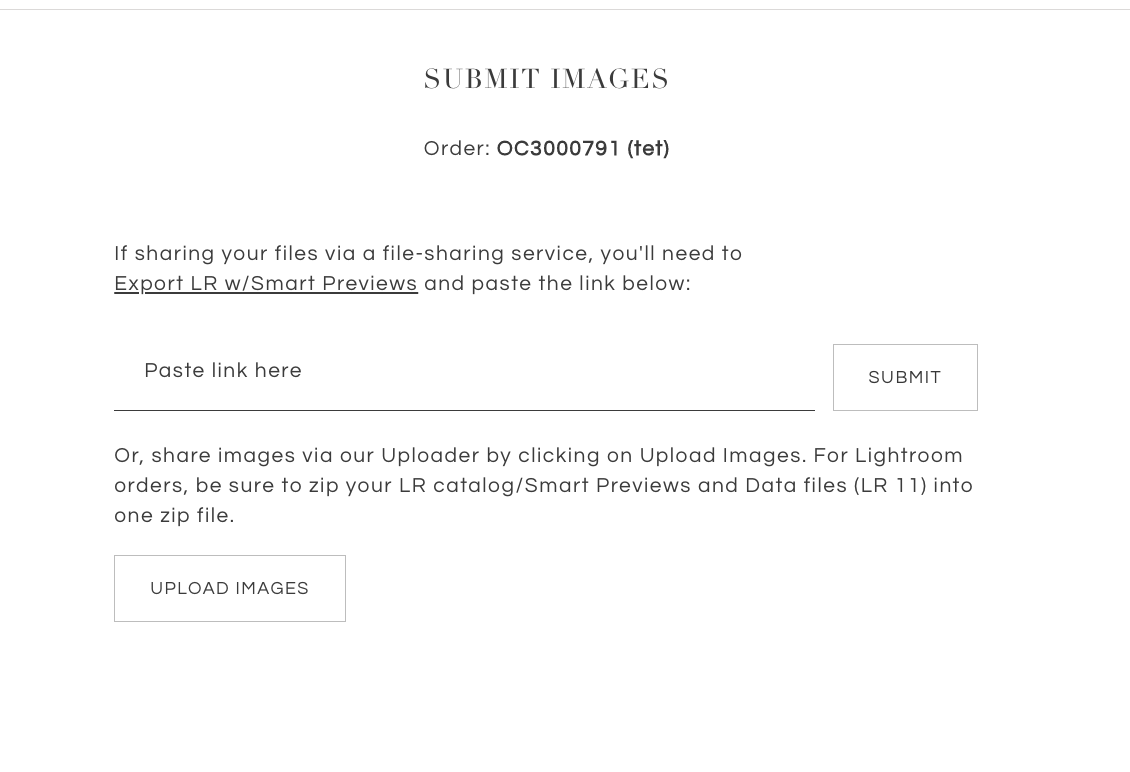 That's it! We'll use the link to download the files from your Dropbox account. Be sure to leave the files where they are, or else we won't be able to grab them.
Don't use Dropbox? Check out how to get a shareable link from WeTransfer & Google Drive here!
Placing a Custom Retouching Order:
Custom Retouching ($0.67/min or $40/hr) is a highly customized service, usually reserved for advanced Photoshop work like head swapping, background removal, and so on. For that reason, we'll need the original RAW or high resolution JPG files to edit.
Note that this service is more advanced and requires you to know precisely what you want. We'll ask you to describe the desired work in detail, and we will send you a quote based on that description and our review of the images.
Placing a Photoshop Retouching Order:
Photoshop Retouching provides next-level retouching for the most common retouching needs with the simplicity of à la carte pricing starting at $1!
Some of the most popular requests under this service:
• Blemish removal – $1/img
• Skin smoothing (face) – $1/img
• Flyaway hairs (across face, 2 people max) – $5/img
• Light glare removal from glasses – $4/img
• Braces removal – $4/img
• Swap background – $8/img
• Extend background – $12/img
• Face or head swap (2 people max) – $11/img
• Object removal (2-3 small objects or 1 person) – $12/img

Still seeing the option to 'Upload Images' on your Account Dashboard after uploading your files?
Please keep in mind that after uploading your files to your order, you will still see the option to 'Upload Images' on your Account Dashboard. This does not mean that we didn't receive your previous upload, so do not fret! We leave the option to 'Upload Images' open until your order is marked as 'Order Started' - this is just in the event that you need to reupload your files for any reason!


Watch our entire workflow.